This week's TUAR Book Spotlight is on:
Stories from the Ballads Told to Children (online)
Other Versions:
Google Books
Kindle version
Author:
Mary MacGregor
, who wrote several other retellings for children on unusual topics including Dante's Divine Comedy, and also several books of history stories for children. I couldn't find anything biographical about her except that she died as recently as 1961, two years before CS Lewis died, and a year before I was born! Oh wait, here's a
bit from Heritage History
but it doesn't tell much about her life.
Reason I Read It:
I am half Scots (by way of Canada; my grandparents both emigrated from Scotland as adults and had heavy Scottish burrs their whole lives; my grandma on the other side was Scots Irish). My kids are also part Irish on their other side and grew up listening to Irish ballads, particularly those of the Clancy Brothers.
Overview:
This is a collection of retellings of famous ballads from the British Isles. You will find the stories of
Tam Lin
,
Hynde Etin
,
Hynde Horn
,
Thomas the Rhymer
(more
here
),
Lizzie Lindsay
,
The Gay Goshawk
(more
here
), and the
Laird of Logie
(more
here
).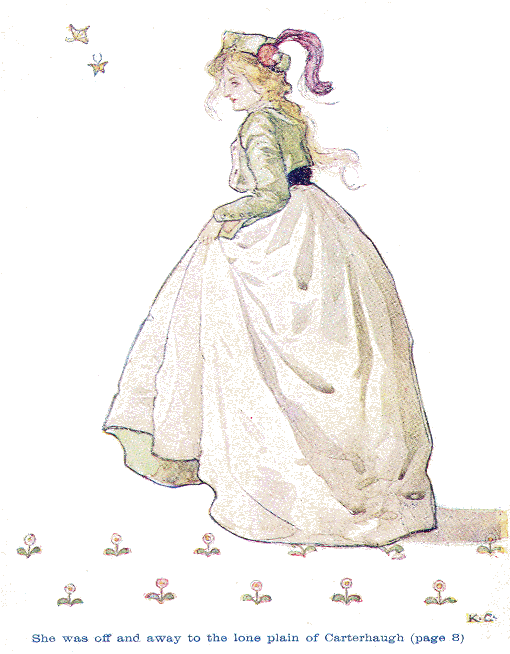 If you want to know what "hynde" means, it is explained in the book:
"For hend or hynde in the days of long ago meant just all the beautiful things which these words, courteous, kind, mean in these days."
Background:
You can read more about ballads in
About Some Song Stories
(from English Literature for Boys and Girls. Also there is some mention of the ballad revival in
Scott: The Awakening of Romance
.
Poetry Through the Ages has some
background about ballads
including
explanation of form
,
traditional examples
, and
how to make your own
.
This site
Poetry of Scotland
tells how the ballad tradition was begun by poor working folk, generally illiterate. If it weren't for educated Scotsmen like Walter Scott, Robert Burns, and Francis Child, the ballads would doubtless have been lost to history as the industrial revolution tore at working-class family culture and tradition.
You can find information on
Child's Ballads, one of the most extensive collections, here
. Also links to further resources.
Here is a small but classic collection online:
A Book of Old English Ballads.
Arthur Rackham's illustration for
The Twa Corbies
AS I was walking all alane
I heard twa corbies making a mane:
The tane unto the tither did say,
'Whar sall we gang and dine the day?'
'—In behint yon auld fail dyke
5
I wot there lies a new-slain knight;
And naebody kens that he lies there
But his hawk, his hound, and his lady fair.
You can find some
pages from Arthur Rackham's Some British Ballads
. Beautiful!
A caution if you are going to try to read the original ballad version of Mary MacGregor's ballad-tales. Sometimes the originals contain more adult themes than the retellings, plus the language can be difficult. Not necessarily a problem for teens and adults, but might raise some questions for younger children. For example,
Tam-Lin has several variants
:



18 Out then spak her father dear,
And he spak meik and mild:
'And ever, alas! my sweet Janet,
I fear ye gae with child.'

19 'And if I be with child, father,
Mysell maun bear the blame;
There's neer a knight about your ha
Shall hae the bairnie's name.

20 'And if I be with child, father,
'T will prove a wondrous birth,
For weel I swear I'm not wi bairn
To any nman on earth.
The story-lines are often grim and tragic, or with happy endings wrested out of a tragic trajectory, which is probably why I liked reading ballads so much as a young teenager.
I suspect, though, that children often heard the original ballads, because they were known by nurses, mothers, and so on, and passed on in that context.
Laura E Richards
, for example, writes:
My mother had a beautiful voice, and sang to us a great deal: I knew many songs and ballads of various nations before I could read. I learned them almost without knowing it, and ever since then I have gone on learning by heart—memorizing, it is called today—good poetry, the love of which has been one of the precious treasures of my life. If there were a tune to which the poem might be sung, so much the better; if not, my mother might make one; so singing, as well as memorizing, became a part of me.
It is said of
Walter Scott
that as a boy he developed a fascination with the peasant literary tradition (and learned to write down the oral stories on twigs to avoid disapproval from those who believed the tales should be kept oral only).
And my children probably know a lot about the dark side of balladic themes from the Clancy Brothers and other balladeers in the Irish folk tradition.
Ballads often also contain strong, decisive woman characters, dramatic emotional range, and a spare, intense use of language and plot development. From
The Ballad of Sir Patrick Spens
(one of my favorites):
And many was the feather-bed
That fluttered on the foam;
And many was the good lord's son
That never more came home.

The ladies wrang their fingers white,
The maidens tore their heair,
All for the sake of their true loves,
For them they'll see nae mair.

O lang, lang may the maidens sit
With their gold combs in their hair,
All waiting for their own dear loves,
For them they'll see nae mair.

O forty miles of Aberdeen,
'Tis fifty fathoms deep;
And there lies good Sir Patrick Spens,
With the Scots lords at his feet.
Related Resources:
For some ballads arranged for children, there are these:
Story-Telling Ballads
by Frances Olcott(public domain)
Hardcover copy illustrated by Milo Winter
I haven't read it yet, but it looks nicely arranged.
Stories from Famous Ballads for Children
I haven't read this one yet, either.
In general, whatever the faults of the 19th century culture, one has to appreciate their development of respect for the child and for the illiterate worker. Not to mention the development of respect for the woman's intellectual potential! Their retellings of old historical stories and literary forms for the young person, and their preservation of the oral traditions of their time, has enriched us all.