I have a few favorite homeschooling or education-related books.
I've also read Charlotte Mason's series several times, at least the first and sixth volume.
Recently I read Leigh Bortin's
The Core
and Cheryl Swop
e's
Simply Classical
, both of which I liked and may discuss sometime on here, though they haven't ascended to my Favorites shelf yet, at least.
But my favorite go-to is sort of a weird one. It's a booklet published by Kolbe Academy called:
Catchy title, huh? And the physical book itself is just as much of a grabber.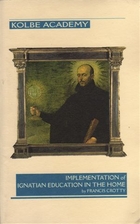 It's short and condensed, more like an expanded outline than a book. But for some reason, as soon as my husband ordered it from Kolbe just a couple of years after we started homeschooling, nearly 2 decades ago, I was hooked. I actually ended up buying three copies of the book because the earlier, comb bound versions simply fell apart on me.
St Ignatius of Loyola founded the Jesuit system of education which sort of revived Catholic learning and ushered it into the early modern era. The Jesuit model of education has had a disproportionate effect on Catholic intellectual life since. The Order was suppressed for a bit in the 17th century which obviously had a dampening effect but there was a revival. Scratch a modern day martyr, and you will very often find a Jesuit. The Jesuits seemed to lose their way a bit in the 60's through the 90's, particularly in the American continents, but there are hopeful signs their day of awesomeness is not yet over.
Cardinal Newman wrote:
Now, St. Benedict has had the training of the ancient intellect, St. Dominic of the medieval; and St. Ignatius of the modern. And in saying this, I am in no degree disrespectful to the Augustinians, Carmelites, Franciscans, and other great religious families, which might be named, or to the holy Patriarchs who founded them.
Newman, to whom I seem to be surrendering this post, assigns Ignatius the Practical sphere:
To St. Benedict, then, who may fairly be taken to represent the various families of monks before his time and those which sprang from him (for they are all pretty much of one school), to this great Saint let me assign, for his discriminating badge, the element of Poetry; to St. Dominic, the Scientific element; and to St. Ignatius, the Practical.
Maybe that is why I am so attracted to Ignatius, because I am in need of practicality. I HEART St Benedict and the Rule,as well, I think because I'm basically more poetical than practical by nature, but Cardinal Newman nicely provides for that when he says (at the same link):
what the Catholic Church once has had, she never has lost. She has never wept over, or been angry with, time gone and over. Instead of passing from one stage of life to another, she has carried her youth and middle age along with her, on to her latest time. She has not changed possessions, but accumulated them, and has brought out of her treasure-house, according to the occasion, things new and old. She did not lose Benedict by finding Dominic; and she has still both Benedict and Dominic at home, though she has become the mother of Ignatius. Imagination, Science, Prudence, all are good, and she has them all. Things incompatible in nature, cöexist in her; her prose is poetical on the one hand, and philosophical on the other.
So in other words, like little St Therese of Lisieux says,
"I CHOOSE ALL."
I get to love and be influenced by all the saints I want to, and the Church gets that too.
So St Ignatius was very practical. Newman also uses the word Prudent. He thought carefully about the HOWs of things and distilled them down to the essentials, which allowed for true focus on the better way because it swept everything else out. Before I got sick, I had just finished going through the
Spiritual Exercises
, and they are like a little workout manual. Every word counts. It is all directed towards some activity or contemplation on the part of the "exercitant." Practical and terse, and targeted like an an arrow at one thing: The Greater Glory of God.
The Ratio Studiorum
, which was the teaching prospectus of the early Jesuits, is the same way, all procedure, but all thought through and targeted very carefully towards particular ends. Practical, and targeted like an arrow at forming students for any kind of distinguished service for the greater glory of God.
The Implementation of Ignatian Education in the Home seems to model itself after this approach -- it's not flowery or elaborate. But I still like it, because of that Practical and Targeted like an Arrow thing. It always clears my head and makes me rethink what is important and how to get there.
I hope to blog bits of it during this fall and winter. I'll try to keep it down to earth and close to my own life so I don't get too theoretical, which I do if I'm not careful.
One more thing. I used to get confused by the difference between "Jesuit" and "Ignatian" education. The order founded by Ignatius was called the Society of Jesus and they were known as Jesuits. The priests founded schools among other endeavors. That would be Jesuit education.
I am not a priest obviously so no Jesuit education here. There are laypeople who are inspired by the Ignatian way of doing things and there is even a lay apostolic community called the
Ignatian Associates
. "Ignatian", I heard in a podcast that I can't remember the name of, means "inspired or influenced by the spirituality and methods of St Ignatius". So it's a looser term. I don't have to be a priest formed for 15 years to teach in an Ignatian-influenced way. I just have to be trying to follow the pirnciples and methods in my own circumstances (one of the Ignatian principles is that things are adapted to the circumstances they are in -- Practical, see?). That's my understanding of the difference between Ignatian and Jesuit. In the educational sphere it might be like the difference between having a Charlotte Mason homeschool, and being enrolled in the PNEU schools. Something like that.
Until next time, blessings!