"Literary experience heals the wound, without undermining the privilege, of individuality. . ... in reading great literature I become a thousand men and yet remain myself. Like the night sky in the Greek poem, I see with a myriad eyes, but it is still I who see. Here, as in worship, in love, in moral action, and in knowing, I transcend myself; and am never more myself than when I do." ― C.S. Lewis, An Experiment in Criticism
Hello! Chari, I'm in already with the
Jane Austen Motherhood Book Club
. I found it in our drafts file the other day. It sounds great, and doable.
Just because I have time today to list them, here are some other book clubs I am either participating in -- in bits and pieces -- or am interested in. Are any of you involved in any of these? I would like to know! Any other book clubs or reading plans that you are in or interested in?
Ambleside Forum's
Read the CM Series in a Year
. I've read the CM series several times before, otherwise I would not take this on. But it sounds very attractive to review the whole thing in the company of ladies who take books and learning very seriously. This will take place in 2014, at least I hope so.
The
Chesterton Reading Plan
. With
Sarah at Amongst Lovely Things
. I immersed myself in Chesterton right after I converted to Catholicism. I was a CS Lewis devotee and you can find prototypes of a lot of Lewis in GKC. But again, I would like to go back and retrospect. And there are some works of Chesterton that I have never read. I am reading chronologically, using
Dale Ahlquist's online Chesterton 101 series
as a guide. I am up to Lecture 5 and its associated readings now.
GKC and Frances Blogg Chesterton
Did you know that Chesterton's wife
worked as an editor
for Charlotte Mason's Parent's Review before her marriage?
The
Great Conversation 10 Year Reading Plan
. This is my ongoing dose of humility. I started in Year 5 because there is an egroup associated with the plan and that's where they are at present. Heidegger, Spinoza and Sartre! Good times! I am way over my head and often don't complete the readings, but I like to follow along, and I like to think I am staving off senile dementia this way. Though often it makes me feel like I am already senile. Two of my grown kids read a lot of this material in their college and I want to have some exposure to these Great Books even if it takes the rest of my life.
When I have extra time I work on the
Through the Great Books reading plan
. It's a seven year plan. I started this one from the beginning and am only on the
3rd month of the first year
(sigh) but it's a wonderful project. It is based on the Gateway to the Great Books series (I am skipping the heavy philosophy complete works because of already reading that through the 10 year plan). So it is lighter and gives me a chance to read essays and short stories I haven't been exposed to yet.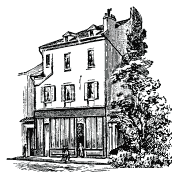 When I need a break from this kind of thing, I usually read fantasy/SF (no romance main-plot or vampires, please, and especially no combination of the two -- I just finished
The Unexpected Enlightenment of Rachel Griffin
which I liked -- in the Harry Potter magical-academy genre) or mysteries (I like the British fireside reading type -- recently have been reading some of
Anne Perry
's books which I found in our library's ebook collection). Mysteries, fantasy and SF are my favorite types of reading, but it's hard to find stories that don't shock my sensibilities with too much graphic (and gratuitous) material. I often read YA books for this reason, but even they sometimes have doubtful elements. Any recommendations?